<![if !vml]>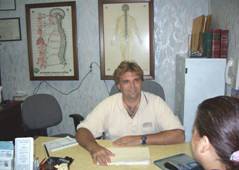 <![endif]>
Next, you will be meeting one of the doctors, who will take a careful case history of your problem(s). You will also be asked about the possible "Cause of Your Problem" and about other health issues you may have.
<![if !vml]>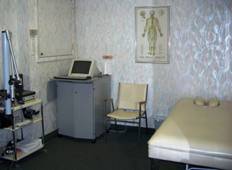 <![endif]>
After your consultation, you will be escorted to a private examining room where one of the team doctors will perform a thorough Spinal Orthopedic Examination.
<![if !vml]>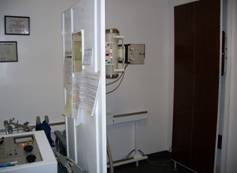 <![endif]>
If X-rays are found to be necessary, our center is equipped to take your X-rays right on the premises for almost immediate review by the doctor. This could mean "less suffering time for you."
<![if !vml]>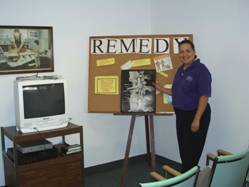 <![endif]>!
You will be invited to listen to a short video to familiarize yourself with your spine and some of the terms that the doctor will be mentioning to you during your Report of Findings". Note: If X-rays were taken, the doctor will Show and Explain them to you at your report. Or, you may attend a "Spinal Care Workshop" to learn more about how chiropractic can help you and "The REMEDY to Better Health" to help speed you recovery and avoid re-injury. [Margie]
<![if !vml]>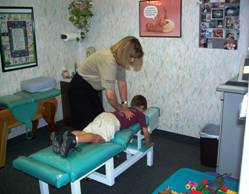 <![endif]>
You will find that the center has several treatment rooms, each of which has unique adjusting tables or equipment to allow specific adjusting of different techniques for all of the different types of cases we care for.
[Here you see the Maternity and Kids room. Note: This special adjusting table allows a 9th month mother-to-be to comfortably lie 'flat' on her stomach and receive regular chiropractic care.]
<![if !vml]>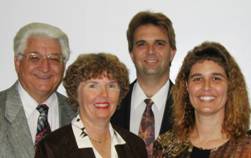 <![endif]>
We are a 'Team' who works for the benefit of our all of patients, but we are also a 'Happy Family'. [Dad, Mom, Son & Daughter]
We are sure that you will find our center friendly, pleasant, and professional.
Come see for yourself